Because there is are national or state entities regulating the bookkeeping profession, there are several private entities out there that offer some sort of "Bookkeeper Certificate" program. There are several out there, and I will give you the short list of the top 5 most visible our there:
But, I want to discuss a specific one that I would like to recommend:
Intuit Certified Bookkeeper Professional
First thing I want to clarify, this is both a stand alone course and an optional proctored EXAM. If you have experience, you will skip the course and go straight to the exam. OR, you can just take the course and receive a certificate of completion, but you are not CERTIFIED until you pass the proctored/paid exam!
Because this is created and maintained by Intuit (makers of QuickBooks), this is the one that is most likely to have the most credibility in the marketplace in the long term. This program is newest of the bunch (released 2021) and it is VERY different from its sister certification Certified QuickBooks ProAdvisor which is currently a free program for the QuickBooks Online certification but is 100% product focused and assumes that you already have a couple of years experience as a bookkeeper/accountant.
The Certified Bookkeeper Professional curriculum focused mostly on understanding how Accounting for small business works – which are the fundamental building blocks of a bookkeeper; there are four sections (or courses) in the entire corriculum:
Accounting Basics
Accounting for Assets and Expense transactions
Accounting For Liabilities/Equity and Income transactions
Financial Statement Analysis
If you are new to all those concepts, the best way to prepare is to take the COURSERA* course, which costs about $50 a month and you can pay based on how long it takes you to complete it. The 4-course series is setup so anyone can complete it in 16 weeks, but I have known people that complete all four sections in just 4 weeks total, depends how much time per day you are willing to dedicate. The course has a combination of videos and reading materials, plus practice questions during the process, each of the four courses has four untimed and unmonitored tests of 20 questions each that you can retry if you get wrong, at any time; these tests are just knowledge checks to be able to mark the course "completed".
Once you have completed the 4-course series and earned the "course certificate"* for each of the four courses, which look like this: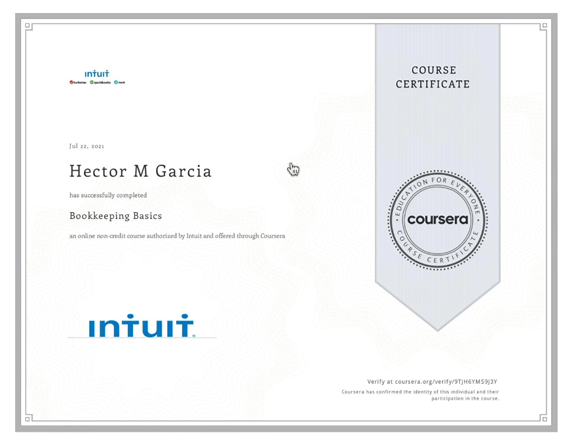 *Unfortunately these course certificates of completion from COURSERA are not the actual CERTIFICATION. To earn the actual certification, which is posted on CREDLY.com, and looks like this:
https://www.credly.com/badges/283a9c34-00b6-469d-9e77-77f22dfcf7bf
You will need to pass a timed and proctored exam by Person/VUE, you will need to create an account here: https://home.pearsonvue.com/intuit and schedule the exam at a specific time (because there will be a person monitoring you while take the exam). The exam is $149 and it is a timed exam with 50 minutes to complete it with approximately 40 questions. Once you pass the exam, you will get an email to your CREDLY page so you can share/print your CERTIFICATION.

The exam's objectives are posted here: https://certiport.filecamp.com/uniq/OOO2laTJ2WUpaqJV.pdf
Once you are certified from passing the proctored exam, you can use the badge in your resume, website, business cards, social media, etc…
If you have any questions, email me, I'll try to help: [email protected]
Check out my video on this topic: https://youtu.be/i3whHTG0NkA
*The COURSERA link is an AFFILIATE a link, which means I get paid if you use that link and sign up. Thanks for your support!

Finally, exam must be purchased here: https://shop.certiport.com/product-p/12005097.htm